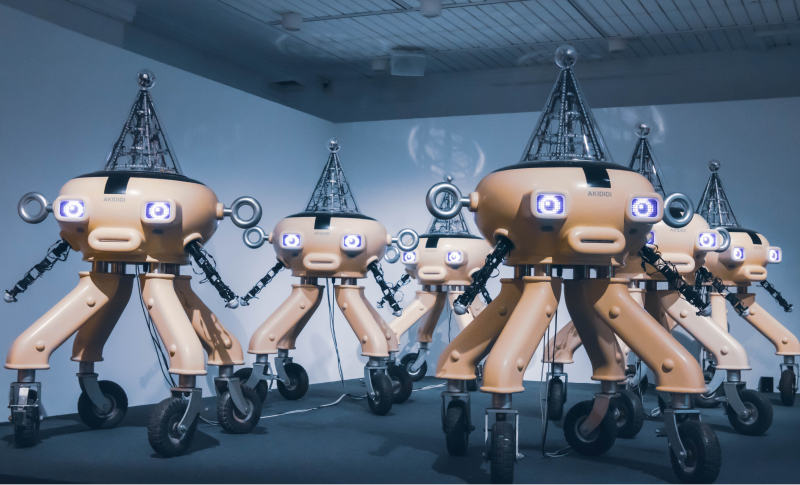 5 Ways AI is Used in Space
The news has been full of new Artificial Intelligence (AI) opportunities. But AI in Space has been around for a while and is finding new applications. Space is a constantly evolving world that is being studied by scientists and governments. AI is an integral part of this research.
Equipment Design
NASA is using AI to perfect specialty hardware for spacecrafts and missions. The combination of human intuition with AI is being used to create specialized, one-of-a-kind parts. The result is optimized shapes at lower weights. In the future, the use of AI with 3-D printing may help astronauts create parts on demand in space.1
Space Congestion
As the number of satellites and rocket launches increases, so does the volume of debris resulting in a greater chance for collisions. AI models have been created to track the multitude of objects in Earth's orbit. This data must be continually monitored to prevent accidents.2
Defense and Warfare
Information will be an essential weapon in future warfare and defense operations. The U.S. Government branches are already incorporating AI capabilities in intelligence, cyber, and electronic warfare technology. AI algorithms are being created to monitor, anticipate, and react in case of on-orbit and in-ground space conflicts. Meanwhile, the U.S. is not alone. China has also been making investments in AI for defense and military purposes.  The "Space Race" is alive and well when it comes to determining who will have a competitive edge in the future.3
Satellite Operations
Satellites are currently a sizable and growing industry. Maintaining the satellites, monitoring their flight patterns, and anticipating failure times are critical activities as more operations become reliant on satellite information. Whether it's for communications, observation, or defense purposes, businesses and governments using satellites need to know their services will be available at all times. Satellite operators need to be one-step ahead in maintaining system reliability.4
Star and Galaxy Mapping
AI-based algorithms are helping astronomers better understand the location, size and age of stars and galaxies in space. Analysis of this data will help scientists detect, classify, and recognize patterns for future exploration.5
Startups and established companies continue to develop new space enterprises. As more opportunities develop for space related businesses and products, new AI programs will surely evolve.
Investors looking to participate in the space sector may consider the Procure Space ETF (UFO:NASDAQ), the world's first pure-play space ETF, for their portfolios. UFO contains 39 publicly traded, space-related companies from around the globe. To learn more about the Procure Space ETF, visit www.ProcureETFs.com.
For a complete list of holdings in UFO, visit: https://procureetfs.com/ufo/. Fund holdings and sector allocations are subject to change at any time and should not be considered a recommendation to buy or sell any security.
1 NASA Turns to AI to Design Mission Hardware, by Karl Hille, nasa.gov, February 9, 2023.
2 Artificial Intelligence for Space Missions, boozallen.com.
3 AI in Space an its Future in Warfare, by Charles Beames. forbes.com, December 21,2022.
4 Artificial Intelligence aiding the space business across the board, by Sandra Irwin. Spacenews.com, February 9, 2023.
5 7 Incredible Ways AI Is Being Used In Exploration, By Sakshi Gupta, springboard.com, February 8,2023.
Please consider the Funds investment objectives, risks, and charges and expenses carefully before you invest. This and other important information is contained in the Fund's summary prospectus and prospectus, which can be obtained by visiting procureetfs.com. Read carefully before you invest.
Investing involves risk. Principal loss is possible. The Fund is also subject to the following risks: Shares of any ETF are bought and sold at market price (not NAV), may trade at a discount or premium to NAV and are not individually redeemed from the funds. Brokerage commissions will reduce returns. 
Aerospace and defense companies can be significantly affected by government aerospace and defense regulation and spending policies. The exploration of space by private industry and the harvesting of space assets is a business based in future and is witnessing new entrants into the market. Investments in the Fund will be riskier than traditional investments in established industry sectors. The Fund is considered to be concentrated in securities of companies that operate or utilize satellites which are subject to manufacturing delays, launch delays or failures, and operational and environmental risks that could limit their ability to utilize the satellites needed to deliver services to customers. Investing in foreign securities are volatile, harder to price, and less liquid than U.S. securities. Securities of small- and mid-capitalization companies may experience much more price volatility, greater spreads between their bid and ask prices and significantly lower trading volumes than securities issued by large, more established companies. The Fund is not actively managed so it would not take defensive positions in declining markets unless such positions are reflected in the underlying index. Please refer to the summary prospectus for a more detailed explanation of the Funds' principal risks. It is not possible to invest in an index.
UFO is distributed by Quasar Distributors LLC.